Known by various names with slight variations in Scandinavia, a nøstekrok is a hook with a mount to hold yarn that is used for knitting while walking. I will focus on the Norwegian version of the hook in this post as it's the one I am most familiar with. Seen throughout pre-industrialized Norway, they were mostly made out of brass, but sometimes out of iron, copper, silver, or wood. Often made by a suitor for his beloved to woo her and showcase metalworking/woodworking skills or by a husband for his wife. Many are richly decorated with hand-hammered motifs, dates, initials. The hook attaches to one's skirt/apron/sweater for easy knitting on the go. The yarn is secured by releasing the bottom and attaching a center-pull ball of yarn. The center-pull ball of yarn is made with a nøstepinne (skein stick), a tool used to wind yarn around a stick in a manner that allows for yarn to be released from the center, rather than from the outside.
So why do I talk about and wear this hook all of the time? Historically it was common to knit while standing or walking; keeping one's hands busy while walking on a farm, utilizing every minute. This hook is a simple, practical tool that stands the test of time. If one sat at a table knitting for hours, staring at their knitting the entire time, it would cause physical discomfort and possibly injury. To knit ergonomically, that is knitting with the goal of using a method that minimizes physical effort and discomfort, one should walk around and train themselves to not always hunch over to look at their work. This is timeless and makes this tool very relevant to constant knitters today. If you start slowly, just trying to knit a few stitches without looking, feeling each pass, you can knit while standing or walking in no time, and then knit longer with less strain. (If you're into hearing more about ergonomic knitting check out Carson Demers' work.)
I first learned about this tool while reading the 1980s edition of the book "Knitting in the Nordic Tradition" by Vibeke Lind at my friend Johanna's house. I found this photo and description of a gillikrog (the Danish version, which is worn on the shoulder with the hook design shown on the image, differing from the Norwegian version) and as I was entranced by it branched off from there: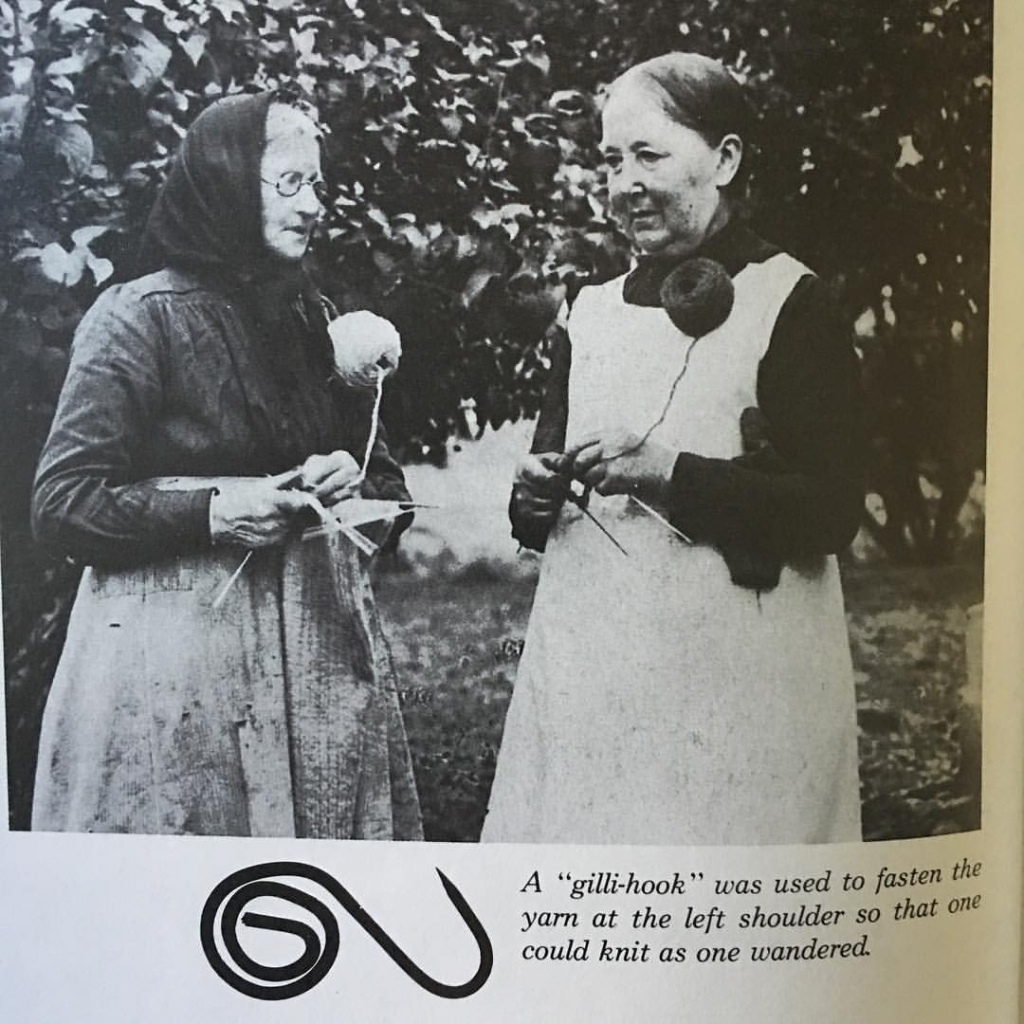 (The version pictured above is sold at Museum Midtjylland, in Herning, Denmark)
nøstekrok (skein hook in Norwegian)
gillikrog (gilli hook in Danish)
garnkrok (yarn hook in Swedish)
I went on a persistent quest trying to find my own. The first one I found was by chance at a folk museum in Hordaland. A modern one made out of recycled bedsprings, that has a nice authentic look to it:
Though this one is great, I had my heart set on an old hook to study and admire the handmade construction method. There is so little information available on this hook both online and in publication, that I've found the best way to learn about them is through trying them out. After searching far and wide, Eirik (my partner)'s father was able to help me locate old nøstekroker from a man who wasn't quite sure what they were. They were lying around in an old shed !!
These two are from Trøndelag:
This one from Møre og Romsdal:
A few action shots of my collection: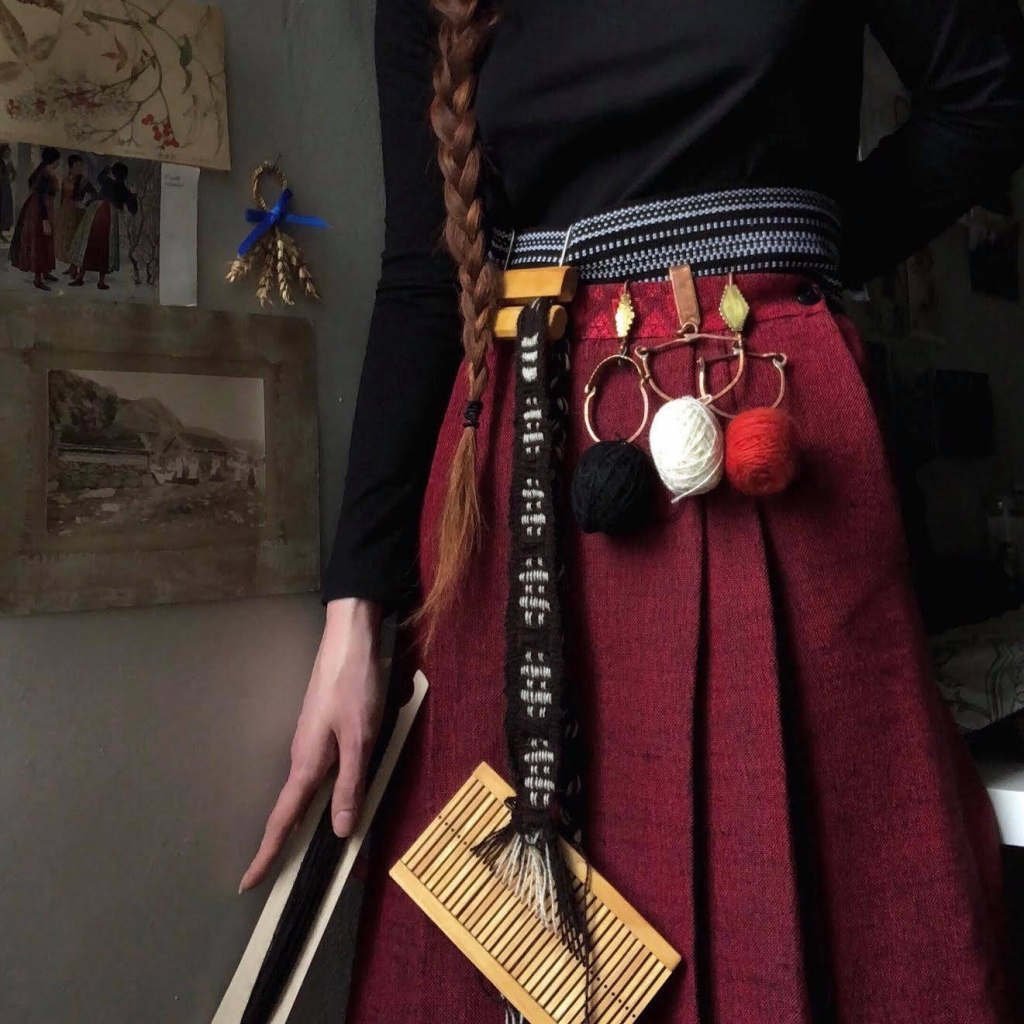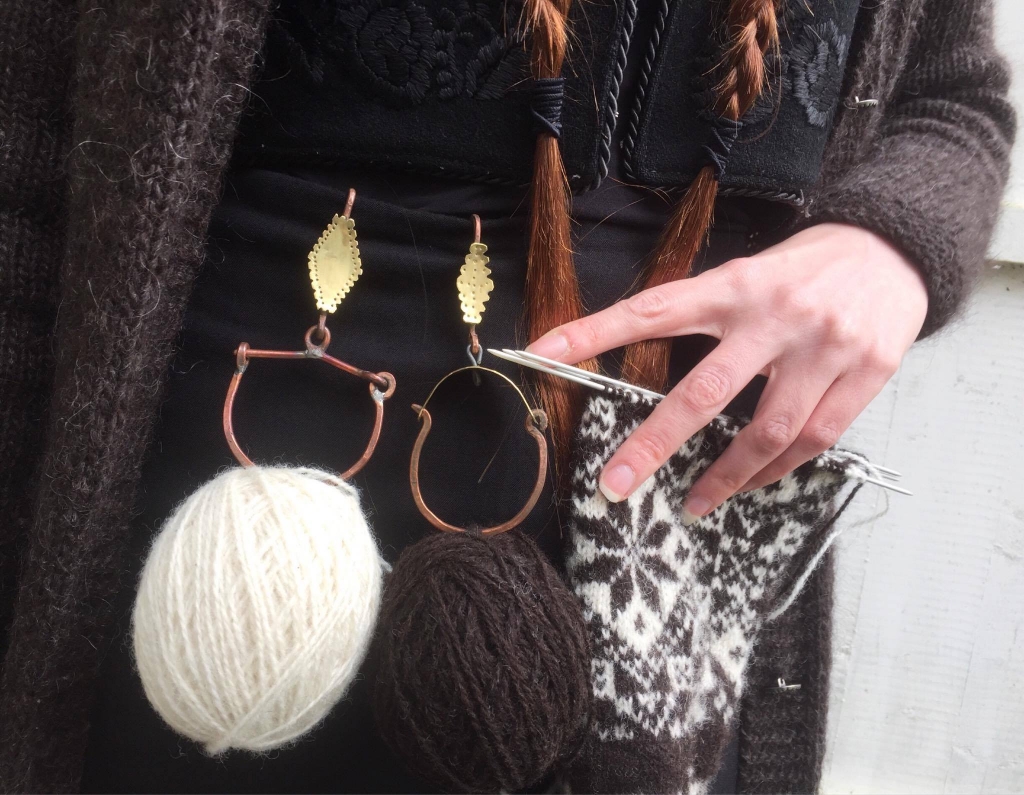 Some bunad retailers in Norway sell nøstekrok as jewelry to wear with bunad, such as Sylvsmidja. Here's a lovely post in Swedish showing how to make your own using bendable metal wire.
Examples of older nøstekrok in Norwegian museum collections: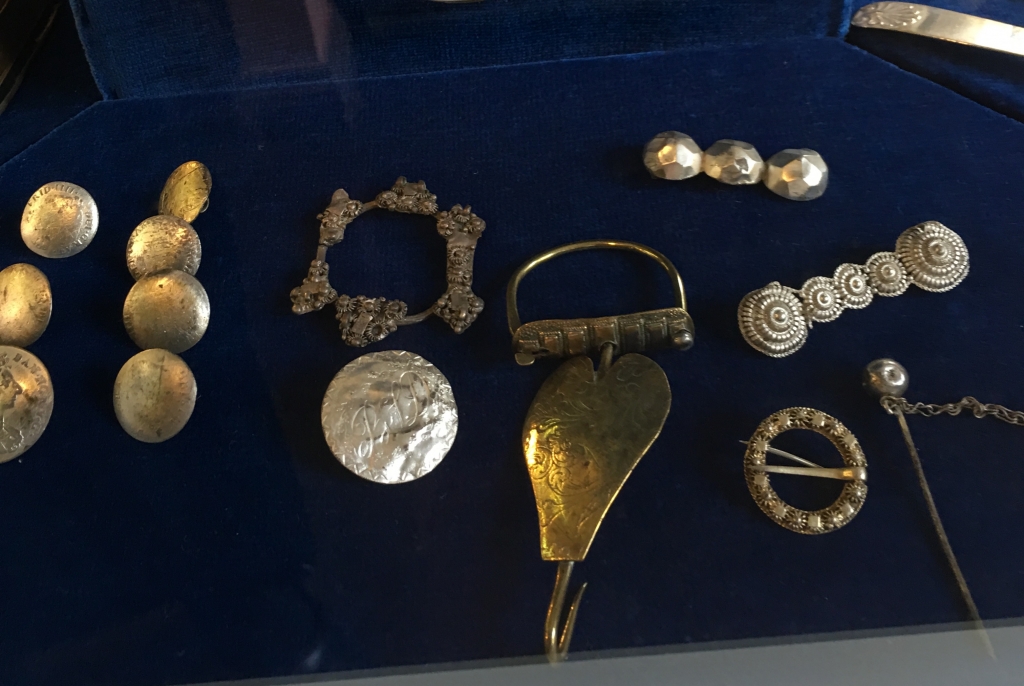 A nøstekrok I spotted at the Karmsund Folkemuseum
Nøstekrok in action:
A photo from Odda showing a woman knitting while walking by Axel Lindahl who traveled throughout Norway between 1883-1889.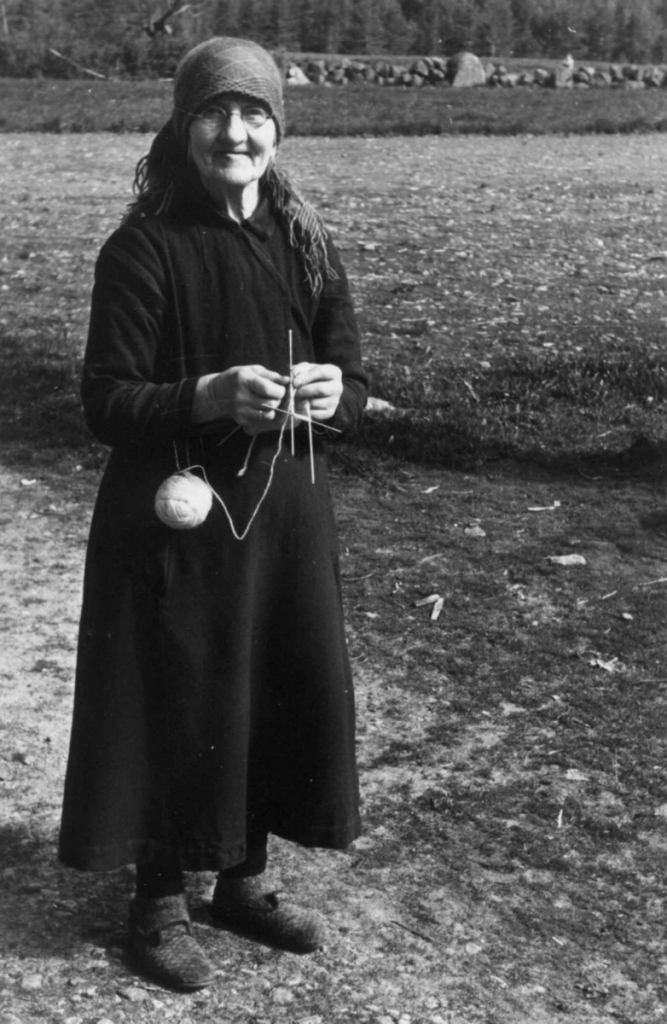 A woman named Anna Thorsland, born 1865, knitting with a nøstekrok in Åseral, Vest-Agder during 1943.
Knitting while walking is a well documented pastime in Shetland and Faroe Islands too, but I'm not familiar with what tools they used. A few noteworthy photos showing knitting while walking there: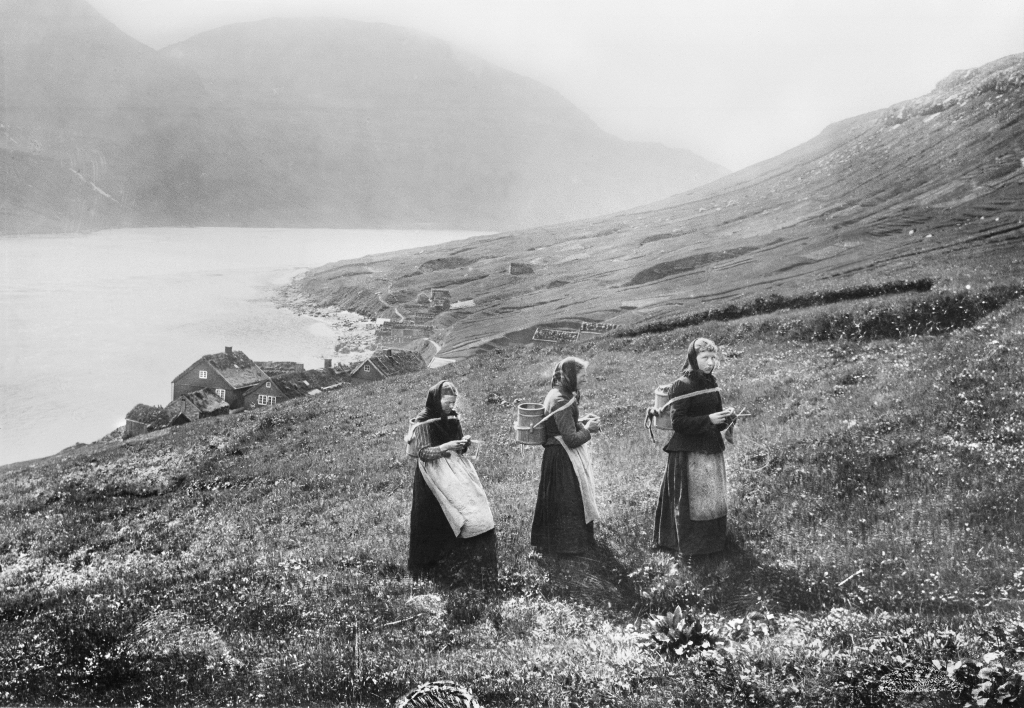 Milkmaids knitting while walking in 1898. Haraldssund, Faroe Islands. Danish Nationalmuseet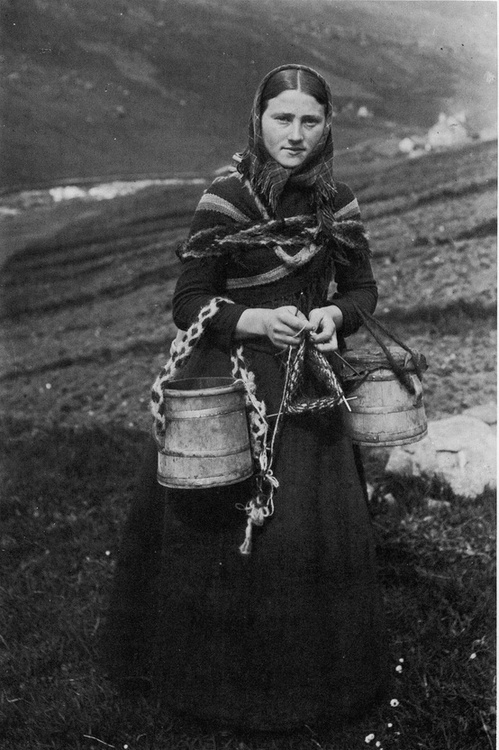 A milkmaid knitting on the go, Faroe Islands. It seems in this photo her two yarn skeins are inside the left bucket, maybe she could have used a nøstekrok?!